Hero Combat Play – The Peace Egg Play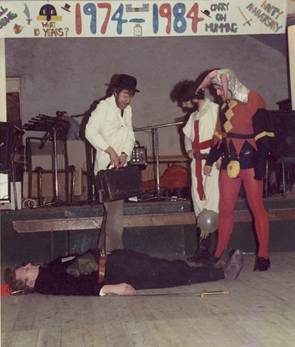 This is the first play performed by Knaresborough Mummers during the Christmas period 1974, firstly at the Royal Oak, Bond End, Knaresborough, home of Knaresborough Folk Club, then on a further seven occasions around Harrogat, Knaresborough and Nidderdale.   Richard Hardaker suggested the idea to folk club organiser John Burrell, and they recruited two other "folkies", to make up the team, the main characters being Fool: John Burrell, St. George: Graham Bickerdike, Bold Slasher: Arthur Jackson and Doctor: Richard Hardaker.   Richard also suggested that two optional parts be added, that of Beelzebub and Little Devil Doubt, in order that other interested people could take up the parts without too much rehearsal.  These parts were taken by Dennis Ward and his son Dominic in the first performance and then Dave Dearlove and John Swainson, depending on availability.   The original script was adapted from William Walkers chapbook The Peace Egg play, obtained from Leeds Library.
The play was performed 8 times in its original form and was revived one more time for the 10th anniversary at Staveley Village Hall on Saturday 20th December, 1984.  The picture above is of this performance showing, from left to right, Bold Slasher (slain): Arthur Jackson, Doctor: Richard Hardaker, St. George: Graham Bickerdike and Fool: John Burrell.  Regretably pictures of the original performances do not exist or are being kept safely somewhere!!  
The interest and fun generated by these early performances led to the play being modified by using texts from other plays, to include Prince of Paradine and the King of Egypt, these parts being taken by Dave Dearlove and Chas Marshall respectively.   With the Beelzebub and Devil Doubt characters the team could field as many as 8 people.   Again, there are few photographic records of this play, the examples show, firstly, the Fool: John Burrell and St. George: Graham Bickerdike and secondly, Bold Slasher: Arthur Jackson (in full cry!) with the King of Egypt: Chas Marshall and (slain) Prince of Paradine (Dave Dearlove).  The photos shown are from the last performance of this play, as late as Saturday 18th June, 1977, at Children's Day in KnaresboroughHouse Gardens. Richard Hardaker had by this time left the area for employment in Carlisle, the Doctor's part being done by Jim Mayer, in the style of David Bellamy with his mantra "All growing……!