The Knaresborough Miracle Play
Following the success of the first plays, interest came from several folk clubs and also from a restaurant/pub at Pateley Bridge which held regular mediaeval banquets.   This led to a desire to find   not only additional mumming scripts, but also to explore the possibility of writing new material in a style similar to the traditional plays.
At this time, schoolfriend and some-time musical collaborator of John Burrell, Jim Mayer, was interested in what the team was doing.  Jim, like other team members, was influenced by the Goons and Monty Python and had an interest in writing prose and poetry.  In a very short time he came up with a play which presented some of the colourful characters that had played a part in Knaresborough's interesting history over the centuries.   This was done in a humorous, tongue-in-cheek way and, given that there were some cast members who could sing, it was decided to intersperse various traditional folk songs at suitable points to round the whole thing off and provide over half-an-hour's material, an ideal play for concerts and special events which required a longer performance.   The original cast was Blind Jack: Jim Mayer, Baron Hugh de Morville (one of Becket's murderers): John Burrell, Mother Shipton: Graham Bickerdike, Toby Shipton: Richard Hardaker, St. Robert: Dave Dearlove, Colonel Lilburn: Arthur Jackson, Guy Fawkes: Chas Marshall.  The songs featured were False Knight on the Road (Hugh de Morville), Good Ale, thou art my darling (Toby Shipton), Pike and Musket (Col. Lilburn) and Fathom the bowl (Hugh de Morville).  Good Ale was eventually replaced by Bring Us a Barrel when Richard Hardaker departed to live in Carlisle and Pike and Musket was replaced by an adaptation of Who'll be a soldier, written by Peter Coe.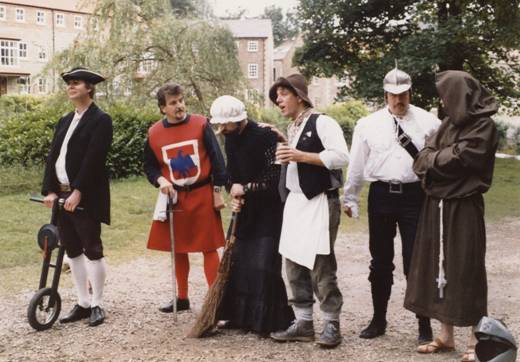 Being a "local play for local people", the play had a limited "shelf life", but was ocassionally wheeled out where appropriate.   The above pictures being taken in 1988 for a series of performances on the Mother Shipton "theme walk"!!  This shows the cast on the first picture as being (left to right) Blind Jack: Dave Dearlove, Baron Hugh de Morville: John Burrell, Mother Shipton: Graham Bickerdike, Toby Shipton: Kevin Young, Colonel Lilburn: John Hutt, St. Robert: Henry Ayrton, the second picture shows Guy Fawkes: Stuart Rankin spoiling their fun!!
There was an attempt by Stuart in 1979 to re-write the play with more of a plot and no songs.   A poor quality print exists of this play taken at Foster Beck Folk Club, Pateley Bridge on Saturday 14th April, 1979.  It shows Eugene Aram (local murderer!): Stuart Rankin, Guy Fawkes (white ankles!): Dominic Ward, Fairfax: Arthur Jackson, Hugh de Morville: Dave Dearlove, Mother Shipton: John Burrell, Blind Jack: Graham Bickerdike, St. Robert: Henry Ayrton.
However, the team were uncomfortable with the result which only had 9 performances, and it was the original version that re-surfaced in 1987/88 and 2005.
After an absence of 17 years the play was revived in 2005 in connection with the Knaresborough FEVA festival, the cast, seen below in the Mother Shipton Inn, (front row, l-r) was Baron Hugh de Morville: John Burrell, Blind Jack: Martin Ord, Mother Shipton: Doug Child, (middle row l-r) Fairfax: Dave Williams, St. Robert: Jeff Garner, (rear row l-r) Toby Shipton: Chas Marshall, Guy Fawkes: Julian Sharpe.   Not forgetting Eric the horse as Eric the horse!!